Product Description
BEYANG Caffe is formulated with the perfect blend of Arabica and Robusta coffee beans to provide the indulgent flavour profile of coffee. With the fortification of Nutritional Yeast B-Complex and botanical Alpinia galanga (enXtra), BEYANG Caffe keeps you energetic and focused all day long!
| Price | Code |
| --- | --- |
| RP RM39.00 | SCF01 |
An aromatic, tasty & functional delight that will have You asking for More!
Natural vitamin B Complex & enXtra (Alpinia galanga) fortification
Every single sip is deliciously natural
Lightly sweetened with brown sugar
Balanced taste of aromatic and sweet notes from Arabica beans with bitter and nutty notes from Robusta beans
Excellent Product Quality Assurance
ENJOY BEYANG Caffe with this preparation varieties
Pour 1 sachet of BEYANG Caffe into a cup.
Add 150 ml hot water (150ml is recommended. The volume can be adjusted to taste & preferences)
Stir well and enjoy.
Pour 1 sachet of BEYANG Caffe into a cup.
Add 50 ml hot water.
Stir well and add in a few cubes of ice.
Enjoy.
Pour 1 sachet of BEYANG Caffe into a cup.
Add 50 ml of hot water and stir well.
Transfer the mixture into a blender and add a few ice cubes and blend well.
Pour into a cup or add whipping cream as desired and serve.
Caffe Chocolate Chip Cookies RECIPE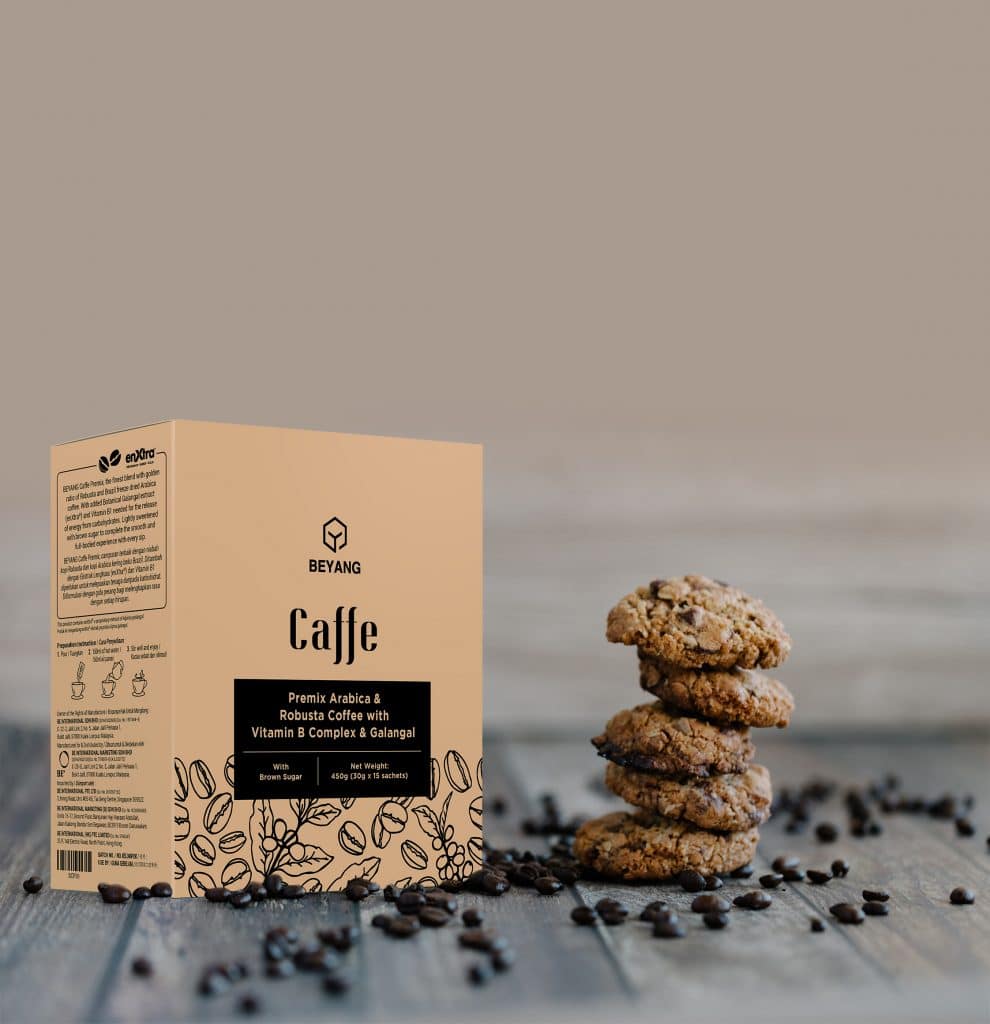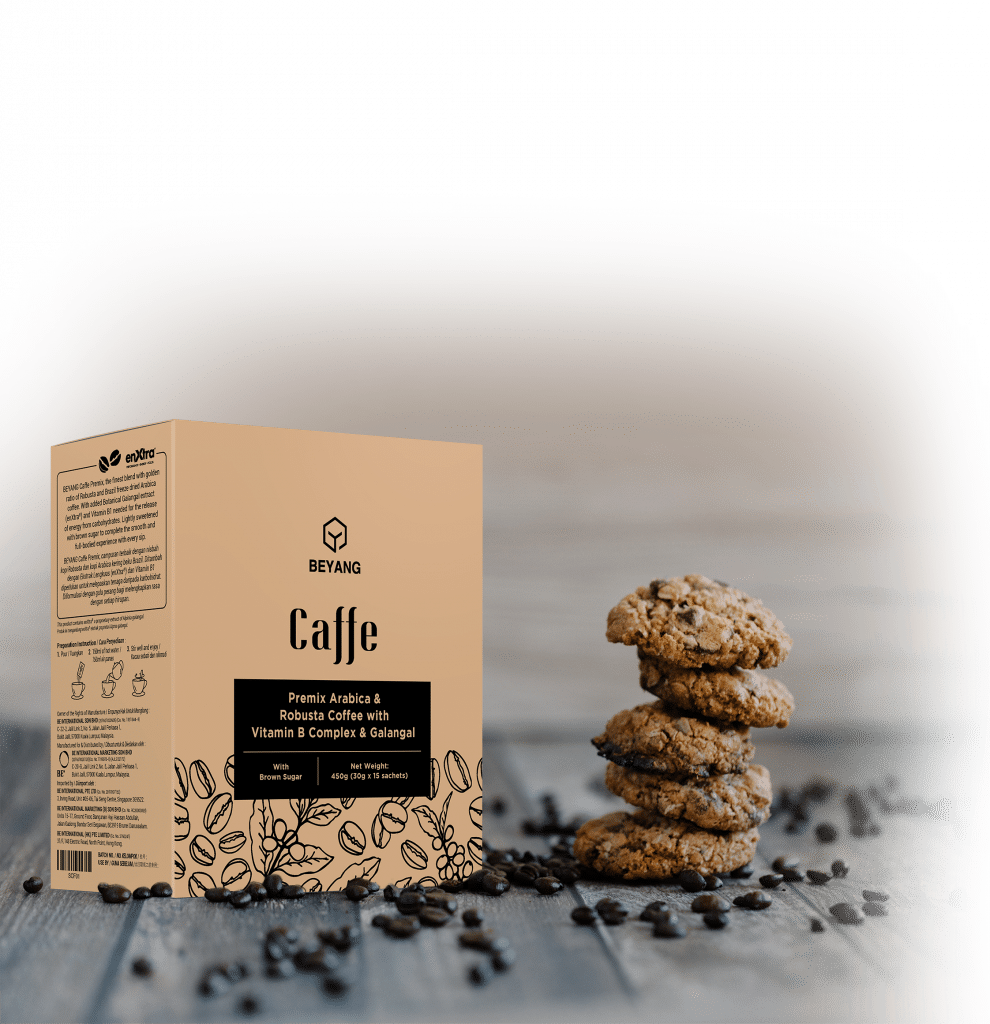 Beat butter, castor sugar, brown sugar, BEYANG Caffe together. Add in oil and egg, continue mixing. (Add vanilla flavoring if desired)
Sieve in flour, corn flour, baking powder, baking soda and salt. Continue mixing until incorporated.
Fold in chocolate chips and almond.
Rest dough in the fridge overnight.
Place cookie dough onto a baking tray at desired size.
Bake at 150°c for 20~25 min.
Frequently Asked Question
BEYANG Caffe is a premix coffee made from Arabica and Robusta beans and infused with botanical galangal (enXtra) & Nutritional Yeast B Complex. It gives lasting and constant energy and helps in releasing energy & metabolism. All in a convenient single-serving sachet.
2. Why choose Arabica and Robusta beans as the main ingredients of formulation?
Arabica coffee beans are known for their vibrant and complex flavours, these beans are loved by coffee connoisseurs because of their smooth taste and delicate aroma. Robusta coffee beans offer a much richer, roasty taste and works really well in coffee blends that are paired with milk. The combination blend gives you an indulgent balanced taste.
3. Where do BEYANG Caffe beans come from?
BEYANG Caffe uses Arabica coffee beans that come from Brazil while Robusta coffee beans from Vietnam.
4. What are the potential benefits of BEYANG Caffe?
Botanical galangal (enXtra) has been shown to improve focus and alertness. It keeps you going longer with less caffeine. 
Formulation with vitamin B complex helps in releasing energy metabolism. 
5. What are the benefits of botanical galangal (enXtra)?
enXtra is a proprietary extract of Alpinia galanga or locally known as 'lengkuas' which belongs to the Ginger & Turmeric family. It has been studied for its propensity to exhibit a significant increase in alertness, enhance attention and focus, help ease caffeine crash and promote vitality.
6. What are the benefits of Nutritional Yeast B Complex?
Nutritional Yeast B Complex is an inactivated dried whole cell yeast Saccharomyces Cerevisiae. It contains Vitamin B1, Vitamin B2, Vitamin B3, Vitamin B6 and Vitamin B12. Generally, Vitamin B provides efficient energy release from food. Benefits of these Vitamins are as follows;
| Vitamins | Role |
| --- | --- |
| | Thiamine plays an essential role in metabolism by helping convert nutrients into energy. |
| | Riboflavin helps convert food into energy and helps with metabolism |
| | Niacin plays a role in cellular signalling, metabolism and cell production and repair. |
| | Pyridoxine is involved in amino acid metabolism and nerve function |
| | Cobalamin is vital for red blood cell production |
7. Is the Nutritional Yeast B Complex animal-derived?
No, the Nutritional Yeast B Complex is derived from fermentation.
8. What type of sweetener is used in BEYANG Caffe?
BEYANG Caffe is sweetened using brown sugar.
9. Where is BEYANG Caffe made in?
BEYANG Caffe is made in Malaysia.
10. Is BEYANG Caffe halal?
Yes, BEYANG Caffe is halal certified by JAKIM.
11. What is the caffeine content in a serving of BEYANG Caffe?
Each sachet of BEYANG Caffe contains approximately 111mg of caffeine per serving.
12. Why is BEYANG Caffe a better choice for you?
BEYANG Caffe contains no artificial flavouring, colouring, and sweetener and it is free from trans-fat. Every single sip comes from the aromatic perfect blend of Arabica and Robusta coffee beans which is lightly sweetened with brown sugar. Furthermore, vitamin B Complex and enXtra (Alpinia Galanga) helps keep you energetic and focused all day long without excess intake of caffeine.
13. Why are there food conditioners in the formulation?
The food conditioner used in food products are very common and it is approved by Malaysia Food Safety and Quality Division.
It is intentionally added into foods in small amounts to improve specific characteristics and to enhance the quality of foods. The food conditioner can increase the quality and presentation of the foods (texture, colours, aesthetics, taste and consistency) and also make foods become tastier. When used in an appropriate amount, food conditioners are safe.
Careful attention is paid to food additives used in BE consumable products. No unsafe food additives are used in BEYANG Caffe. The products do not contain any artificial sweeteners, colourings, and flavours.
For more further information, you may check at
http://www.myhealth.gov.my/en/food-additives-what-you-should-know/
Like our BE BELIXZ page to get the latest news and updates, right to your news feed.